Discover more from Oren Cohen
This publication documents my creative journey and breaking free of the rat race.
Worlds Beyond Number: WWW #007 Recap and Review
Let's talk about Worlds Beyond Number's 7th episode of The Wizard, The Witch and The Wild One. It did not go so well for our heroes and their plans.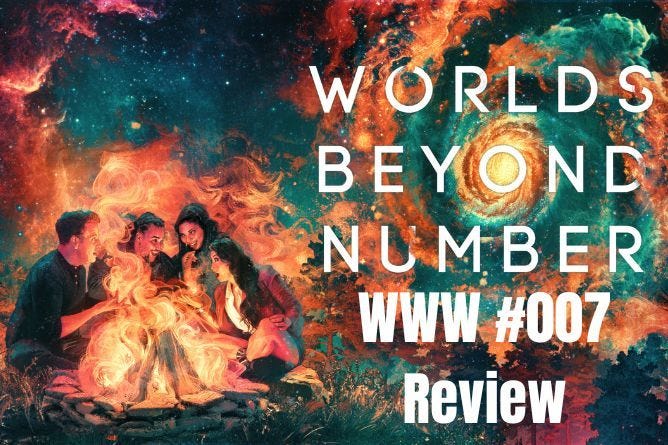 Author's Note: This article will include Spoilers to Worlds Beyond Number WWW episode #007.
Episode Seven of The Wizard, The Witch, and The Wild One did not go well for our heroes. The dice really didn't like them that day. From Morrow's excitement to Pain's indifference, there's much to catch up on!
Let's dive into it!
The Most Awkward Welcome
Let's be honest here - It's not that Suvi and co came unannounced; it's just the vibe is off. These mages started their journey hoping to become mages of The Citadel, and they didn't make the cut.
Morrow is one of the names dropped in the drawing room in episode six. I guess he's connected with those people in various ways as part of his stay in the city and the ties he and his mages have with the crown.
And yet, Morrow still made such a big show for Suvi's arrival because he feels like her visit will be a catalyst of change for them.
You gotta appreciate the hustle. Even without them knowing Suvi is coming, they still got custom-made fireworks and a feast where our heroes rival Morrow for the most cringe part of the episode - especially Eursolon.
The Most Awkward Dinner
I thought the encounter with Will Gallows would be one of the lowest our heroes would initially experience when they're level 1. But hey, guess what? Just one episode later, we have the most awkward dinner with Morrow.
Just to recap, in this dinner, we had Suvi lying out of her teeth about why there arrived unannounced, Eursolon failing to prove he was the strongest man in Silbury, and Ame spilling the beans about Grandmother Ren's passing.
It might not seem like it, but word travels fast in a community of mages, just like in any community of like-minded people. And I'm already calling it that someone in the future would hear that Grandmother Ren died. And where was Suvi since that happened? She was to return home, but as of yet, she didn't even let Steel know what was up.
During this conversation, we learn that Morrow is an excitable little scumbag who cares for nothing more than power and notoriety. And after the group finishes embarrassing themselves with failing strength checks and lying to their host, they start talking about The Derrick, Morrow's little creation.
Introducing The Derrick
When The Derrick was mentioned and Brennan requested an insight check from the group, one line stayed with me - "Eursolon, you're not the hungriest person in the room."
Such a great line.
But wait, can we talk about that meal for a second? What's up with serving so little? This would never fly in my family meals. I'm a software engineer by day, which energy-wise is the same as a citadel mage because I sit all day but never need to eat little. Maybe it's a me problem, but that just feels weird. What do you think? Let's move on.
So, what we know so far is that The Derrick is out in the ocean and emits some kind of light that Ame has seen from afar. I think it's some kind of weapon of mass destruction. That's my hunch. I've seen enough Ghibli lately to feel that would be the focus for a mage who wants to impress the right people in a war-torn world. Umora is not a peaceful world. Our heroes travel in friendly places, but war is waged in different parts of the world.
We might see more and more of it as the episodes progress. But for now, let's talk about Guild Mage Pain.
Guild Mage Pain is a Pain in the Butt
During the dinner conversation with Morrow, Guild Mage Pain arrives to ask him to come to sign some budgets. He absolutely looks menacing, dressed all in red.
Morrow explains that Pain deals with finances and is not a "real" mage. And that's coming from someone who also failed to enter the ranks of the esteemed Citadel mages. But as we all know from later in the episode, Morrow absolutely underestimates Pain.
Pleasant or not, Pain is why our heroes suffer through the charade of Morrow's hospitality. Our heroes must find a way to expose him and leave him vulnerable to Will Gallows to get WaveBreaker to lift Ame's curse. Fortunately, Brennan did not go the "he doesn't deserve what you have coming for him" route, as Pain is full of it. Suvi doesn't feel bad exposing him.
After dinner, Suvi lets her friends go to the rooms while Morrow leads her up to the office, where she finds some documents related to her parents, as pointed out earlier by Morrow. Pain is present at that time and disrespectful to her when formally introduced.
Suvi returns to her friends after expressing her displeasure to Morrow, and our heroes huddle up before executing the most juvenile plan ever.
Sign up for Nerdy Modern Blog
Nerdy Modern Blog is a website about TV, Video Games, Books, Movies, and all manner of nerdy things. Founded by Oren Cohen.
Subscribe
Email sent! Check your inbox to complete your signup.
No spam. Unsubscribe anytime.
Meeting Up at The Rooms
Our heroes decide to see what info they can get on Pain. Somehow they need to expose him. They decide to split up and send Eursolon and Fox to investigate his office (mistake #1) while Suvi and Ame, who have been spotted walking about, are now trapped in a forced tour of the premises (mistake #2) and also not thinking at all about where Pain would be or how to distract him (mistake #3).
Was it any surprise he was in his office?
Before discussing Eursolon's encounter with Pain, I'd like to take a moment to appreciate the bond being forged between Eursolon and Fox. "Never take a shower" is a strong sentiment from the big furry honored friend. I don't know how the sentiment would be perceived by Ame, who just earlier tried to get the fox to shower, but it's bound to be a fun conversation to dive into.
Also, another honorable mention is Eursolon's attempts to lift things in his room before Suvi knocks on his door. That failure at dinner really struck him hard.
Now let's talk about the showdown between Pain and Eursolon.
Failing to Outsmart Guild Mage Pain
Eursolon failed his dice rolls today on more than one occasion, and the conversation with Guild Mage Pain was no exception.
Trying to convince Pain that Suvi wants to talk to him and, afterward, touching and telling him about Will Gallows made him snap.
Pain takes out a knife and cuts his own arm to put the blame for hitting him on Eursolon. Brilliant play from the finance guy over here. But don't forget, as you praise the finance guy for his cunning mind, pray for Eursolon, who will be fried with magic electricity.
And, of course, Brennan had to end it there. So let me wrap this review up so I can go back to listening to the next episodes.
Predictions for the Next Episode
I'll keep this short this time:
I don't think Pain will survive the next episode. One word from Suvi to coerce Morrow that his dream to be recognized by the Citadel depends on getting rid of Pain, and he's done for.

The Derrick is probably more ominous than what Morrow said about it.

Maybe we'll get some consequences to the whole Welcome Suvi fireworks from two episodes ago? I feel like Suvi is not forthcoming with her responsibilities, and while she enjoys time with Eursolon and Ame, they don't know she was sent only to spend some time with Grandmother Ren and return home. She never told anyone from the Citadel that she was leaving with Ame on an adventure, and I feel like it will come back to haunt her. Brennan hinted at that with Will Gallows' ominous question upon seeing them: "Who knows you're here?"
That's it for me. What did you think about the episode? Let me know in the comments below! I'm excited to hear theories; just don't tell me spoilers! I hope to make it to the latest episode as soon as possible!
Read the next episode's recap and review right here.